#10 Contract Killer 2
Contract Killer 2 is a free-to-play 3D action first-person-shooter (FPS) and third-person-shooter (TPS) game developed by Glu Games Inc. The game has a unique combination of first-person and third-person; when navigating through the game and killing enemies you are in third-person, but when you need to shoot with more precision and accuracy, you change to first-person.
"You are Jack Griffin, the ultimate contract killer. Experience an intense, international thriller that pushes your training to the limits with long-range kill shots and close-range melee attacks. To survive in this line of work, you have to sneak your way in and shoot your way out!"
Overral, Contract Killer 2 has an interesting storyline to follow; a huge arsenal of weapons including: handguns, sub-machine guns, assault rifles, sniper rifles and melee weapons; and non-stop action throughout the game.
#9 Uberstrike HD
UberStrike is a free multiplayer sci-fi fantasy FPS game created by CMUNE. UberStrike is very fast-paced fantasy shooter game featuring many multiplayer maps and weapons to choose from. The game is 100% free to play but dues feature an in-game shop to buy items such as weapons and armour.


#8 Assault Cube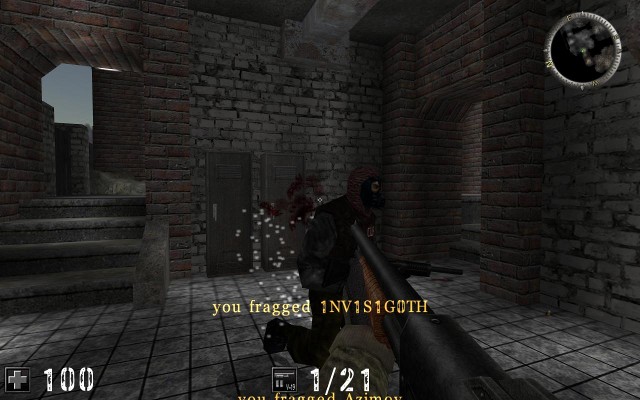 Assault Cube is a free fast paced team orientated first person shooter game (FPS) that has a close resemblance to Counter Strike, this is primarily due to the modern weapons used in the game. Assault Cube is ultra light weight, which means it will run on older hardware and the size of the game is only approx 50 megabytes.
Assault Cube has many multiplayer game modes such as: One Shot One Kill and Team One Shot One Kill (Sniper rifle and knife only), Last Swiss Standing (Knives and grenades only), Survivor and Team Survivor (Teams fight until opposing team is eliminated), Pistol Frenzy (Pistols, knives, and grenades only), Capture The Flag, Keep The Flag and Team Keep The Flag (Find the flag and keep it as long as you can) and Hunt The Flag.
#7 Nexuiz Classic
Nexuiz also known as (Nexuiz Classic) is a free sci-fi first person shooter (FPS) action game created by Alientrap. The game is heavily inspired by Unreal Tournament and Quake III Arena, because of this it is primarily a multiplayer game, but there is a single player mode where you play against bots. Nexuiz features 13 unreal sci-fi weapons with 24 official maps to play in.









#6 Frontline Commando
Frontline Commando is a free third-person-shooter (TPS) game for Mac OS X that is practically identical to the iPhone and iPad version. Frontline Commando is a very action packed game with one simple objective: eliminate the enemy. The game boasts some great 3D graphics, good arsenal of weapons and a decent storyline that keeps you glued to the game.










#5 Open Arena
OpenArena is a free and community-produced deathmatch FPS that is heavily based on iD Software's Quake III Arena. Open Arena has very fast-paced action gameplay. There are 12 multiplayer game modes to choose from like: Free for All, Team Deathmatch, Capture the Flag, Domination, and much more. The game is very light weight and has very minimal system requirements, meaning it will run on any Intel powered Mac.











#4 Galacticwar (GCW)
Galacticwar or GCW is a free futuristic sci-fi 3D first-person-shooter (FPS) game with a Quake & Unreal feel to it. The game is a mod of Unreal Tournament 4. Galacticwar can be played in both single player and multiplayer mode, with a good arsenal of futuristic weapons & vehicles, many maps to choose from, detailed graphics and & environments and fun fast-paced gameplay.













#3 Quake Live
Quake Live is a free online deathmatch multiplayer FPS game created by Id Software. Quake Live is the free browser based version of Quake III Arena, the game is almost identical to Quake III Arena featuring all the classic gameplay from Quake III. Game modes include: Duel, Free For All, Team Deathmatch, Capture the Flag, Clan Arena, Freeze Tag, Harvester, Domination and more.












#2 Xonotic
Xonotic is a free and open-source first person shooter (FPS) multiplayer arena game. It is the direct successor of the Nexuiz project, and just like Nexuiz it's inspiration comes from commercial arena games like: Quake III Arena and Unreal Tournament. There are 18 official maps in Xonotic and is compatible with maps from Classic Nexuiz, with a wide arsenal of weapons.













#1 Red Crucible 2
Red Crucible 2 is a free to play team-based modern warfare first person shooter (FPS) game designed by Rocketeer Games. It's obvious that the game takes some inspiration from Battlefield. Red Crucible has 2 sides: Red and Blue, with the objective to eliminate the opposing side.
The game has many weapons to choose from and lets you control vehicles such as: tanks and helicopters. Red Crucible 2 is free but allows you to make in-app store purchases for equipment to upgrade your player. You can download Red Crucible 2 for free at the Mac App Store.